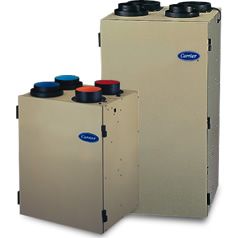 HRV in Winnipeg: We have Heat Recovery Ventilators
Winnipeg is known for its harsh, extremely cold winters, and this can be draining on both your system and your energy bills. That's why Sarte Heating & Cooling Ltd. has heat recovery ventilators (HRV). We'll make your home more efficient.
We offer Carrier's Performance ™ Series Heat Recovery Ventilators. Even if the snow is deep outside, these ventilators help to retain heat energy and keep your indoor air fresh all year round. You'll save money on your energy bill because your heating and cooling requirements will be lower.
To learn more about how a heat recovery ventilator could be perfect for your home, Contact Sarte Heating & Cooling Ltd. to book an appointment today.
Get an in-home estimate for your new installation
We provide "live" 24/7 emergency service to serve you better.