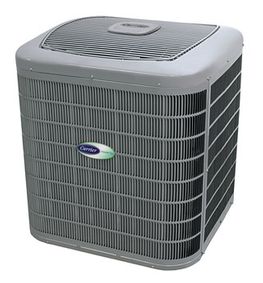 Professional Air Conditioner Installations in Winnipeg
Sarte Heating & Cooling Ltd. wants to help keep you comfortable during every hot summer day and night. Our team of specialists is ready to install, replace or repair your air conditioner in Winnipeg! We work with all brands on the market and will make sure the unit is operating exactly as it should be – after all, an air conditioner is an essential appliance and does more than maintain your home's comfort. It also helps your health by reducing your chance of a heat-related illness, filters out airborne allergens and lowers the indoor humidity, which means less dust mites and mould. 
We're proud to offer a 100% customer satisfaction guarantee program. This is our way of showing you how confident we are in our services.
THE HISTORY OF AIR CONDITIONING
An air conditioner can regulate your home's temperature with cooling, humidity control, ventilation, and – in the case of some units – even heating. W. H. Carrier invented the first modern A/C unit in 1902, and Carrier has led the cooling industry ever since. Sarte Heating & Cooling Ltd. is a Carrier Factory Authorized Dealer.
CONTACT US FOR AN INSTALLATION ESTIMATE OR APPOINTMENT
Start your energy saving today – call us now! We offer free estimates and will always be upfront with you- explaining how everything works and what we believe will work best for your home and it's needs. Trust the experts at Sarte Heating & Cooling Ltd. for all of your air conditioner installation needs! 
Get an in-home estimate for your new installation
We provide "live" 24/7 emergency service to serve you better.