Professional Furnace Installations in Winnipeg
Sarte Heating & Cooling Ltd. has reliable, factory-trained technicians available to handle all of your heating needs. Since furnace installation in Winnipeg can be a safety hazard if it is not performed correctly, it's important that you always call in a professional to complete a furnace installation.
You should consider purchasing a new furnace after 15 years. Many factors are involved and every case is different, so we recommend that you schedule a checkup with us before making a final decision. We'll give you our honest opinion and identify the best solution to fit your budget.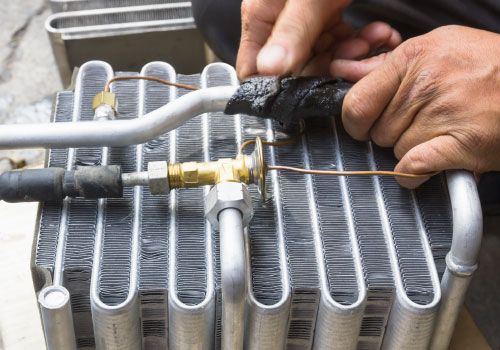 ENERGY EFFICIENCY SAVES YOU MONEY
When shopping for a furnace, consider the Annual Fuel Utilization Efficiency (AFUE) rating, which indicates how much of the total energy used is actually delivered to your home, and what percentage of that energy is being converted to heat. For example, if your furnace's AFUE rating is 95%, it means 95% of the heat created is being delivered to your home's interior. However, it also means that 5% of your fuel is being lost to the outside air. The higher the AFUE rating, the more energy efficient the unit is, and energy efficiency saves you money! 
Some older furnace models can provide an AFUE of only 50% or so, which means nearly half of your energy budget is being wasted! Installing an energy efficient furnace will not only save you money on fuel expenses, it will also allow you to enjoy a better airflow and a quieter system with a longer operating life, as well as a reduced carbon footprint, and an extended warranty.
We can help you choose the right furnace for your Winnipeg home. There are several types of furnaces available, and each of them offers advantages.
An electric heating system provides quiet and reliable operation when compared to other furnace types. Because it does not emit pollutants, and electric furnace doesn't need to have an exhaust system installed.
A natural gas-powered furnace typically warms a structure more quickly than an electric furnace. Gas furnaces are powered by natural gas, which is a clean fossil fuel; they require very little maintenance and will continue to function in the event of a power failure, unlike electric models.
Oil furnaces typically provide a longer lifespan than other types of heating systems. They offer increased fuel efficiency and provide a hotter, faster heat source. This can sometimes make them the better choice.
Whether you heat your home with gas, oil or electricity, Carrier has a furnace that's perfect for your needs. Contact us today to find out more! We offer free estimates and can provide you with all the information you need to chose the furnace that best fits your home and it's needs.
Get an in-home estimate for your new installation
We provide "live" 24/7 emergency service to serve you better.